Leo Rutherford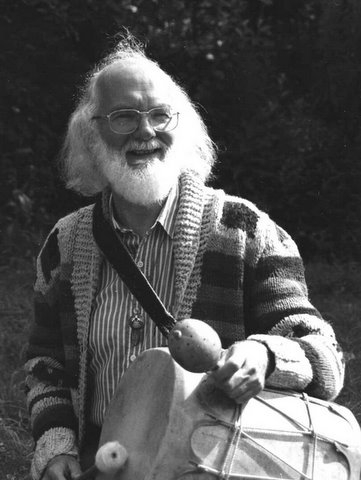 Following a mid-life crisis of depression and a dire gut wrenching need to a make much greater sense of life, I was able to take my life apart and start over a second time. I got involved in the burgeoning Alternative Movement of the 1970's and after a while found my way to San Francisco, that great melting pot of new ideas, new thinking and experiments in human evolution. There I enrolled in the Fischer-Hoffman Process (now Hoffman Process) which helped me no end with left over childhood issues. I re-learned to dance my body with Gabrielle Roth and took part in her first ever training in 1982, I joined the unique Holistic Psychology MA programme at Antioch University where I learned loads and also came across the ancient wisdom of the Native American people. I gradually came to realise that their psychology, ecology and spiritual understanding is far superior to anything in our world and I have followed this ancient wisdom ever since.
As I have got older, so I have become younger! It is my great joy to pass on to others through these workshops, some of the experience and knowledge that has helped me to transform my life. A process that goes on and on…
"I have been a practitioner now for almost 40 years and will continue till it's time to go!"
LYNN GOSNEY FROM TOUCH THE EARTH
Lynn Gosney has been on the Shamanic path all her life and shares her knowledge having run her own Shamanic centre Caer Cohrain in Kent for over 25 years.
She is well known and respected and works with people in a nurturing, loving way.
She regularly facilitates Sacred Sweatlodges and shamanic workshops throughout the UK, in Europe and the United States Lynn is also a member of the band Touch The Earth and Rooted and Wild whose music moves all that hear it. A vocalist, songwriter, native flute player and drum maker, Lynn uses her songs and music to help bring healing and connection. She offers performances either as a soloist, with the band or other musicians.
Her joy is seeing others finding their own power
MAGDALENA ATKINSON

Thrive my friends, do thrive and be the light which can show the way!
Magdalena Atkinson– a soulful singer, songwriter, multi-instrumentalist, yogini, music therapy facilitator, Gene Keys guide and a dreamer …
Her music gently heals confusion, empowers and inspires. Experience this truly magical and eclectic voice, at times touching your heart with its gentle quality, at others lifting your spirit with its power and resonance, inviting you to dance, stump or sing-along. Her solo music is an original and unique blend of modern folk with elements of progressive new age. During her performances she always tunes into her audience offering what feels right in each and every moment from her rich original repertoire of songs. She plays the hammered dulcimer, the piano, the guitar, healing drums and percussive instruments.

Magdalena's passion lies in sharing positive vibes in all she does. You can experience it at her intimate acoustic concerts, where you are likely being invited to take part in her music creation. For that reason, she has created 'Thrive' Interactive Concerts where her audience take an active part in chanting, singing or drumming.​With her love for music and yoga she offers Shakti Dance– yoga of dance workshops and Kirtans – devotional singing at yoga centres and retreats, and regular yoga and relaxation classes at her home studio.

The lyrical romance of the past grew into a much stronger, positive and uplifting future, leading to the creation of the band – Magdalena and the Mystical Birds, with richer jazzy and rhythmic section, perfect for festivals and wider audiences. http://www.mysticalbirds.com https://youtu.be/oSgTtUYSBco – Link to song Thrive https://youtu.be/cboNedRMY5M – Link to promo of solo performances
PAUL COOK
He has been playing didgeridoo for about 25 years and is now considered to be one of the foremost didgeridoo performers in the UK with several appearances on radio stations across the country, television and also producing music in film.
He has been teaching didgeridoo for many years, runs workshops at a large variety of festivals and visits schools to teach didgeridoo and aboriginal Australian culture. Throughout the year he runs a stall at festivals selling and teaching didgeridoo and many other musical instruments from around the world.
Paul also runs his own festival called Elementary Didgeridoo Festival, with music from Africa, India, Slovakia ,Tibet to name but a few and of course a fair bit of didgeridoo.
For details on all that Paul does you can visit his websites at www.didgetallpaul.co.uk or for the Festival www.elementarydidgefest.com
Ursula Barbieri
Ursula Barbieri has been on a spiritual Self-realization journey for more than 20 years, exploring and practicing energy healing, shamanism and different yoga practices.
Her training in Core, Inka and Reclaiming shamanism, Awakening the Light body and Life Alignment Energy Healing and her research into Vedic Yoga has given her many tools and techniques to facilitate natural Well-being, Self-enquiry and Self- expression.
Ursula shares free resources through her blog and audio-recorded meditations and runs different events, classes and retreats as well as assisting people one-to-one in the areas of personal healing, space clearing and business alignment.
For more information: http://www.blueshivaenergyhealing.com
Karen Hayler
I've been a full-time healer and holistic therapist for over 25 years. Reiki Master/Teacher – Esoteric Healer – NFSH (The healing trust). 17 years as a VortexHealing® certified healer at the top level of MI (Manifesting Intention)
Guided by Divine Grace and Love the energies of Vortex Healing provides a way to re-awaken you to the essence of LOVE, your essential true nature. We experience ourselves as a sperate being , a local bubble of memory and experience. Yet in truth we are boundless endless beings of the essence of life itself LOVE.
About the session
Using the VortexHealing tools MI, Angelic heart , Pure Magic and Divine Mother transmission
In the session we will be mending any broken Divine Lines. These can break or weaken with trauma events or just living a stressful modern life. Clearing the Chi converters ( the junction boxes of our subtle energy pathways) these get blocked with age , clearing and optimizing them allows energy to flow more efficiently to all our body systems. Channeling Chi and Jing to energise the body along with optimising our kidney energy and pre natal Jing. Chakra balance. Clearing as much as time will allow of anything that is most impacting our emotional and physical health. Integrate and ground
VortexHealing®Divine Magical Healing is a registered trade mark of R. Weinman used with permission
STEVE NOBLE
Steve Ahnael Nobel is the author of 5 non-fiction books, the most recent
is entitled 'Starseeds'. He is a book mentor and spiritual coach. He created a healing system called Soul
Matrix Healing. He also began creating a series of transmissions which
are freely available on his website and YouTube channel. These
transmissions are played all over the world and so far, the platform has
over 120K subscribers. He has run events in the UK, Europe and USA.
Visit https://www.thesoulmatrix.com
STARSEEDS AND THE ASCENSION PATH
Starseeds are the Pioneers, the Map-Makers, the Magicians, the
Co-Creators with Spirit. Starseeds are not native to this 3D dimension
of the earth. Starseeds come to help anchor a new set of energetic
frequencies on the earth. Starseeds are the pioneers of consciousness,
reality creation/co-creation to help birth a new world. Starseeds are
Here to Create Heaven on Earth. We are here to create our reality and to
shift away from growth through suffering to the higher octave of growth
through joy and bliss.On the path of awakening there are many challenges, including our own resistance to the path. This workshop explores the main challenges and how to navigate them. it also explores the spiritual resources and Angelic Support available at this time. This workshop includes information, some processes and a meditation.
THE RADICAL FLOW OF ABUNDANCE
Many now are working through issues with their relationship to abundance
and the flow of money. This is all part of the shift from 3D consciousness to 5D consciousness. Concerning money, there is a lot of collective anxiety, fear, anger and shame around the topic. Within our 3D bloodlines, there are also energies, programs and agreements that can block abundance. Furthermore, when we add other life karma and trauma into the mix, the potential blocks to money, abundance and success can seem almost insurmountable. Abundance can mean different things depending on one's level of awakening, consciousness, and frequency. On a 3D level, it usually
equates with competition, money and material acquisition. On a 4D level
it is about mastering the various components of manifesting abundance
easily and gracefully. On a 5D level, it is more about stabilising in
the higher vibrational flow of abundance in its many forms which include
the important elements of fun, play, joy, love, support, opportunities
and pure delight. This workshop includes information, some processes and
a meditation.
SANGEETA CHOHAN
How would you like to move forward in 2021 with clarity and an open heart? Are you ready to release the old worn out stories – and write a whole new story? One that is bright, clear and joyous – and full of meaning and purpose? Pranayama is a transformative ancient technology that was gifted for our time to facilitates the release of emotional sub-conscious patterns. This leaves a clear space for a heart that feels grounded in the present. Pranayama helps us to level up our frequency so that we are more aligned with our true home, the vibration of freedom and love.
A daily Pranayama practice will antidote the intensity of the fear-based matrix of this decade.
In this workshop you will learn a series of breaths which you can use as a daily practice to help you upgrade your frequency to better navigate your life. No previous experience necessary, if you can breathe, you can do it! Please ensure you have an empty stomach (2 hours) and bring a cushion to sit on.
Sangeeta 💜
Elahn Keshava & Gisela Lirusso
Elahn and Gisela ran Shekinashram the much loved Bhakti Yoga ashram in Glastonbury UK for 17 years introducing people to the beauty and grace of the path of devotion through kirtan, ceremony and storytelling. Having studied and practised in both eastern and western mystical traditions they synthesise their different influences into a unique blend of bhakti yoga. Gisela's main passion having worked with medicinal plants for nearly 20 years, is her apothecary where she practices alchemy and makes spagyric preparations in connection with the cycle of nature, the elements, and the planetary influences within the plants, which has given her a holistic understanding of what is to be a natural medicine maker.

Kirtan – Bhakti Yoga Experience

The Bhakti Yoga Experience is an opportunity to dive into the ocean of nectar which is the sublime Yoga of love and devotion (bhakti). The workshop will be comprised of mostly Kirtan, which is the congregational singing of devotional mantras and story telling which is used to share some of the age old secrets and wisdom of the sages from the bhakti yoga tradition. Originating from the ancient Vedic system of India this path ultimately leads the individual on a heart melting journey to become a lover of the Supreme Beloved. Well known for both our soft ambient moods of devotional chanting and high energy kirtan we invite everyone to join us on a beautiful and inspiring pilgrimage to the Heart of the Beloved.


Plant Spirit Journey – Gisela Lirusso
I will guide you to a Plant spirit journey bringing us back to our ancient roots of being aware of the unity of all of life and learn to listening them and treating plants with love and respect. Research shows that plants have feelings, intelligence, and can sense our intentions and respond to our actions. Let's answer their calls together, and receive the medicine that is always available when we open ourselves to the wisdom of the plant spirits.
Bruce Scott
Bruce Scott has walked a spiritual path for many years in his homelands of England and India. He has studied with many teachers and works with Vedic knowledge, Sacred Mantra and Meditation techniques/
Lisa Horwell
gratefulyogi/ sober witch / gong goddess/ yoga therapist / Y12SR leader/ red tent space holder.
My yoga journey started in 1995 when I was in the grips off ptsd. My first class allowed me to experience deep healing. This miracle made me realise I needed to develop a regular home practise.I studied with the BWY teaching diploma. Then the Pregnacy module with Wendy teasdill. I have been teaching community group classes/ pregnancy/ post natal / children's yoga in schools.I furthered my studies at Yogacampus qualified C-IAYT yoga therapist. I now teach a 'yoga therapy for addictions ' to trainee yoga therapists. Then with Nikki Meyer's becoming a Y12SR leader this is 'yoga for addictions'.Alongside this I am a sound healer studying with gong master Don Conreaux.I offer both yoga therapy and sound healing 1-1 or small groups.I work in addiction/ recovery rehabs every week and offer 1-1 sessions via zoom atm.
Sober sista's red tent safe place
All women (and those who identify has women ) we be warmly welcomed to sit in circle, connecting to the ancient 'red tent' sacred space. Uniting womb wisdom, reconnecting to the divine feminine/ goddess energy.
What to expect ? A place to 'be' not to 'do'. Time out to rest, restore and explore your self care / self love routines. No prior experience required. From menarche onwards (first bleed)and breast feeding mum's welcome. Sorry no other kids (mums time out ! )Womb wisdom. Share circle. Yoga Nidra/ sound healing. Cleansing with sage. Women with or without a womb welcome.
What to bring ?Wear red or white ( can be scarf/ flowers/ lipstick ?). Co- create a altar (crystals / flowers/ leaves. Something to sit on (cushion/ blanket ). An open mind
I own a yoga retreat in France called 'gratefulretreat' in Brittany France. I also host red tents / sacred ceremonies/ rituals in alignment with the goddess!
Contact Lisa Horwell 07308100071 Gratefulyogi@me.com Fb – Gongwitch